NEPTUNE'S LEGACY



The launch of Nixie Taverner's book Neptune's Legacy took place on Saturday 7 June 2003 at the Union Jack Club, Waterloo, London (situated just behind Waterloo East main line station). This was the high spot of the Neptune Association's year, and all members and those who have made contact were invited to attend.

Nixie Taverner, author of a celebrated book on HMS Hood, decided to write Neptune's Legacy to commemorate the ship and those who served in her, and to honour the 764 men who died. Her appeal for information from relatives and all with Neptune connections elicited a remarkable response from all over the world, including New Zealand (whose loss of 150 men represents that nation's worst single loss in World War Two).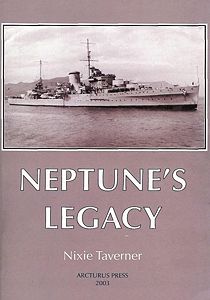 Neptune's Legacy is now for sale at £15.00 (which includes UK Postage and Packing) by applying to John McGregor 67 Island Wall, Whitstable, Kent CT5 1EL Tel. 01227 282219.




© 2002-2018 The Neptune Association, Registered Charity No 1103413.