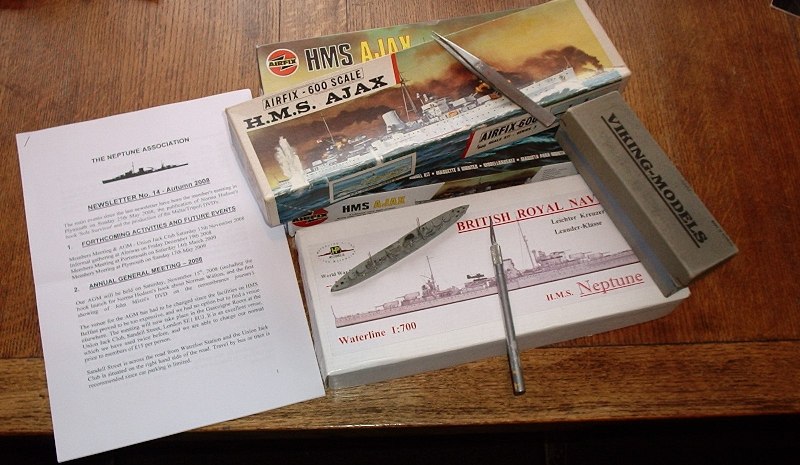 MODELS OF HMS NEPTUNE & HMS KANDAHAR



A number of our contacts have enquired about the availability of HMS Neptune and HMS Kandahar models and what follows is a summary of known models and kits of the ships.



SHIP MODELS OF HMS NEPTUNE



HMS Neptune has been less well served in model form than others of her class, particularly HMS Ajax and HMS (HMNZS after 1 October 1941) Achilles (because of their involvement in the Battle of the River Plate) and, to a lesser extent, HMS Orion (involved in the Battle of Cape Matapan).

Those who attended the inaugural meeting in 2002 may recall my late father's 1/1200th (5½in long) pre-war German die-cast model which was featured in photographs on Norman Walton's finger in The Times and on the cover of Norma Hudson's biography of her father (see our books page). This has only very limited detail being so small and I have only ever noticed one, badly knocked about example for sale on the internet.

Two current manufacturers of similar scale models include HMS Achilles and HMS Ajax in their ranges and at these small scales the detail differences within the cruiser class are not very obvious. Mountford make diecast metal and plastic kits of the two sister ships to 1/1200th scale which can be acquired pre-painted (about £18) or plain (about £15). More expensively, Navis Neptun produce completed models of the two, very slightly smaller at 1/1250th scale, for about £29 for Ajax and £36 for Achilles (why the difference I am unsure). I have only seen photographs of these two manufacturers' products, never an actual example.





In the larger, most popular scale of 1/700th (9½in) a German resin kit manufacturer, H-P Models, has produced an exquisite model of the ship in her 1936 configuration for €62 (plus €10 postage). Not a beginner's project, it requires meticulous cleaning up of about 70 parts (many small and fragile) before painting and assembly. I hope it will, with photo-etched and turned brass detail, produce a very nice model. (In the absence of a specific Neptune photo-etched brass detail set, I am making use of appropriate components from the one produced by British kit manufacturer White Ensign Models for HMS Sussex for railings, catapult, crane, etc).

To the same 1/700th scale, White Ensign Models themselves have been advertising a similar model but in 1941 configuration for a year or two now. I do not know which camouflage scheme and fittings will be modeled, they changed considerably during Neptune's final year. The company were hoping to have this kit available quite a while ago and in my occasional correspondence with WEM proprietors John and Caroline Snyder of WEM they tell me that delays continue to dog the project due to the pattern-makers' workload on this and other Leander class cruiser kits. Similar considerations as to the complexity of construction as with the H-P Models kit are likely to apply but I would expect this kit to include photo-etched brass as well as resin parts and, judging from comparable kits in their range, the price to be £45 to £50.





An Airfix polystyrene construction kit of Neptune's sister ship, HMS Ajax, in 1939 Battle of River Plate configuration in 1/600th scale (11in) can still be found, although originally produced in 1965 and crude by modern standards. It is the only cheap (c£5) mass produced alternative. Somewhat different from Neptune, especially in the bridge area, I still believe with some extra work, the use of plastic card, photo etched brass etc. a passable replica of Neptune can be made.





At more than three times the size, former Neptune officer, Paymaster Commander John Parker's son Andrew had a 1/192nd scale model made for his father in Hong Kong in the seventies and which he now has at his home in Bali.

Click here to see detailed photographs of this splendid model.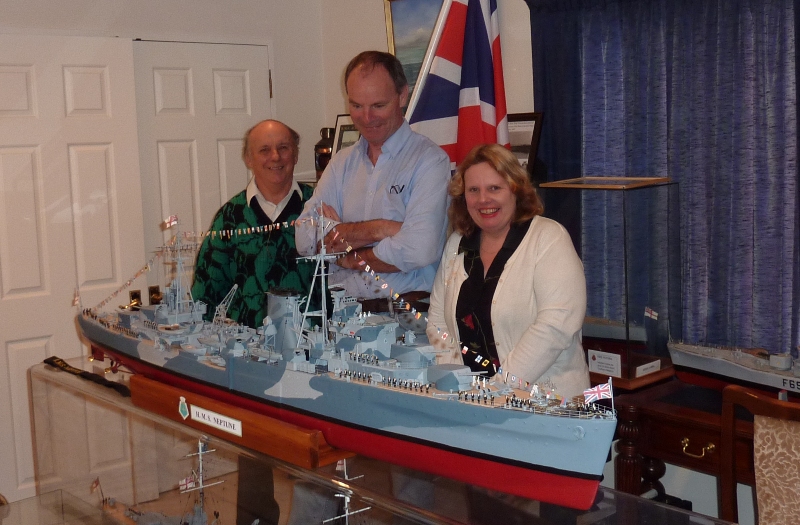 On an even bigger scale, New Zealand model maker, Graham Beeson has completed a 1/96th (almost 6ft long!) full hull model of HMS Neptune as she appeared in 1941 after 3½ years of painstaking research and work. My wife and I were privileged to experience the kind hospitality of Graham and his wife and supporter Fay in October 2009 and to view Graham's fabulous models. The photographs on the website were mostly taken that day and show what an epic model this is with detail right down to figures of the crew. The photograph above shows, Graham, me (stunned with admiration!) and Fay with the HMS Neptune model.

Click here to see detailed photographs of this extraordinary model.



An aside on camouflage



In making models of Neptune as she was in 1941, the scarcity of good photographic references is a problem. Up to 1939, many postcards of Royal Naval ships were available. Ship colours were limited to plain grey with the shade varying depending on the waters in which the ship operated. With the outbreak of war, most vessels were camouflaged in a variety of patterns and shades of blue, grey and even "Mountbatten Pink". Alan Raven, foremost author on RN camouflage, suggests that Neptune had at least three different schemes during 1941.

I am aware of only six photographs of a camouflaged Neptune. Two official aerial views were taken in May 1941 after her Chatham refit, one in Scapa Flow, a snapshot at Haifa in July 1941, one in Alexandria and a final distant one of her leaving Alexandria. All are in black and white so it is difficult to ascertain the actual colours. Both Graham Beeson and I would welcome any insights or guidance on this point from Association members.



SHIP MODELS OF HMS KANDAHAR



The two current manufacturers of small scale models referred to above both include generic K class destroyers in their ranges. Mountford's 1/1200th scale kits are available pre-painted (about £8) or plain (about £6). The more expensive Navis Neptun completed 1/1250th scale generic models representing a 1939 J, K or L class destroyer are about £20. As with these two manufacturers' cruiser models I have to admit to only having seen photographs, never an actual model.

As with Neptune, in the larger, most popular scale of 1/700th H-P Models has produced a resin kit of Kandahar in her 1939 configuration for €30 (plus €10 postage)and has other K class destroyers in their range in their configurations at other times within World War 2. Again these models are not beginner's projects but, if the Neptune kit is representative of the H-P range, they should, with appropriate work, produce a very nice model.

Matchbox produced a 1/700th polystyrene construction kit of HMS Kelly which has been out of production for a long time and examples rarely appear. Kelly was the K Class Flotilla Leader so technically had a larger crew, bigger deckhouse and heavier tonnage but Matchbox included alternative parts including a smaller deckhouse to depict HMS Kipling so a passable representation of HMS Kandahar might be made from the kit using the Kipling construction instructions. HMS Kelly's main claim to fame was, of course, being captained by Lord Louis Mountbatten.

White Ensign Models do not currently have a model of HMS Kandahar within their resin and photo etched brass 1/700th range but do list a model of her sister ship HMS Kashmir in 1939 configuration for around £30. Speaking for myself I would be cautious about attempting a conversion of such a fragile model to represent her sister ship.

The Airfix 1/600th scale range of maritime polystyrene construction kits did not include a K class destroyer. It did, however, include a kit of the World War 2 Royal Navy Tribal class destroyer HMS Cossack and I have both an example of this kit and a 1980 Airfix Magazine article by ship modeller I M Fleming outlining the modifications necessary to convert this model to a J, K or L class destroyer as the basis of a future Kandahar project.



AIRCRAFT MODELS FOR HMS NEPTUNE



In keeping with other larger Royal Navy ships of the time, HMS Neptune was built with an aircraft catapult and through most of her career carried Fleet Air Arm seaplanes. In the summer of 1941 the catapult was removed, the introduction of escort carriers and the dangers of aircraft recovery resulting in a general policy to abandon catapult spotting aircraft from cruisers.

She was originally equipped with the Hawker Osprey seaplane, a development of the Hawker Hart biplane day-bomber with floats. Airfix 1/72nd scale kits of the Hawker Hart or very similar Hawker Demon with the addition of scratchbuilt floats should be a fairly staightforward conversion to an Osprey. Neptune had an Osprey from No 407 Flight (2nd Cruiser Squadron, Home Fleet) with the airframe number K2775, photographs of which can be found in Jack Harker's ""Almost HMNZS Neptune" and Owen Thetford's "British Naval Aircraft since 1912". The two Airfix kits are not generally available but examples can be still be found, the Demon, being a re-tooling of the Hart, being more reasonably priced.

HMS Neptune actually conducted the first sea trials, at Gibraltar, of the second aircraft type that she carried, the Fairey Seafox. Matchbox produced a 1/72nd scale kit (later re-released by Revell) of this aircraft. Again this kit is not generally available but examples are occasionally about. A photograph of Neptune's Seafox can be found in Jack Harker's "Almost HMNZS Neptune" and carries the airframe number K8577.


CONTACT RORIE GRIEVE WHO MAINTAINS THIS PAGE WITH ANY CONTRIBUTIONS ON NEPTUNE & KANDAHAR MODELS VIA THE NEPTUNE FORUM

© 2002-2018 The Neptune Association, Registered Charity No 1103413.