MEDITERRANEAN MINEFIELD
The Expanded Second Edition
The launch of the much enlarged Second Edition of Adrian St Clair Fewins' book Mediterranean Minefield took place on Saturday 27th November 2010 at the Union Jack Club. It is believed that this is a unique book since the memorabilia and photographs could only be assembled with the help of the internet and the website www.hmsneptune.com. This major naval tragedy, largely obscured for over 60 years, touched many families throughout the British Isles, New Zealand and South Africa. Relatives of 440 casualties have made contact out of the 836 men who died in the two ships, and a paragraph or two of information has been included for each man. Where the details are available, each man's age, parent's names, wife's name and home town are given. For 367 of the casualties, a photo has been included. Remarkably, these have been preserved within families for nearly 70 years. The book is split into sections covering the various departments - Officers, Seamen, Artificers, Stokers, Royal Marines, Supply, Communications and Wiremen. There is a large section about Kandahar and her crew with several eye-witness accounts. The size of the book is 250 pages and it costs (including postage and packing) £15 to UK addresses or £20 overseas.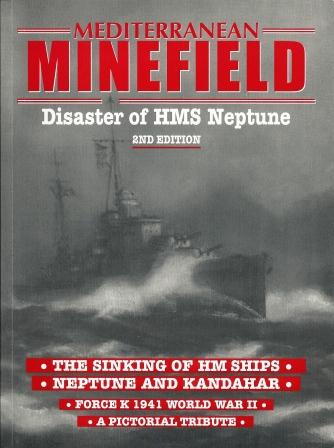 The book is a photographic tribute to honour the 836 men who died in HMS Neptune and HMS Kandahar. Our appeal for information from relatives and all those with Neptune connections elicited a remarkable response from all over the world, including New Zealand, whose loss of 150 men represents that nation's worst single day disaster in World War Two. Since the first edition, a further 180 relatives of men who died have contacted the Neptune Association, and an additional 160 photos of casualties are included in the new book. It is remarkable that so many photos have been carefully preserved within the families for nearly 70 years. The book includes an account of what happened and a wide variety of memorabilia and stories about the casualties together with much newly gathered material.
BUY THE BOOK 'MEDITERRANEAN MINEFIELD'

Supplement to Mediterranean Minefield 2nd edition
In the last eight years more and more relatives of casualties have come forward thanks to the internet and our website www.hmsneptune.com. Each one is important to us. We have received 56 more photos of casualties and relatives of another 16 have made contact without a photo. Out of the 836 who died we have contact with 477 of their families and photos of 384. The Neptune Committee decided that the best way to remember them would be to publish a supplement to the 2nd edition.

For those buying Minefield 2nd edition for £15 the supplement will be included. For those buying just the Supplement the cost will be £5 including p&p.

© 2002-2018 The Neptune Association, Registered Charity No 1103413.