VOICES OF NEW ZEALAND CASUALTIES
recorded on 13 Nov 41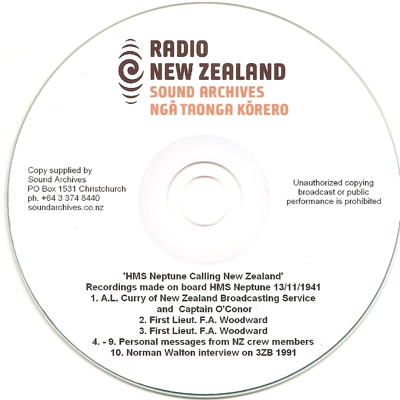 Sarah Johnston, Archivist at Radio New Zealand Sound Archives, Nga Taonga Korero, has updated the Association with details of the tapes held by Radio NZ and the current terms and conditions under which they are made available as follows.

Background.
In 1940, the New Zealand National Broadcasting Service (NBS) sent a three-man mobile unit overseas with the New Zealand forces. They recorded greetings from servicemen and women, naval personnel and New Zealand members of the Royal Air Force, who were all chosen by ballot to record messages for family back home. Units were visited in rotation and recordings taken from around 10 per cent of the personnel. These were recorded onto discs, which were then airmailed to New Zealand for broadcast in a weekly programme called "With the Boys Overseas."

On the 13th of November 1941 the NBS unit visited the HMS Neptune and recorded messages from its officers and 65 members of her Kiwi crew. The sinking of the Neptune just over a month later, meant these were never broadcast and family members may not have been aware of the existence of these recordings. Some crew had written home to say they had recorded messages, and we believe it was possible for family members to ask to hear the recordings in private at the NBS offices in Wellington.

RNZ Sound Archives holdings relating to HMS Neptune.
Please note names of crew members have been transcribed as they are heard on the recording. There may be alternate spellings or names. In some cases, crew members are referred to on the recording by nicknames, so we have cross-referenced them with the HMS Neptune's Roll of Honour and included their full names in brackets where possible.
Each crew member was allowed around 30 seconds to send greetings. Often they also included greetings to other families, on behalf of crew members who were not selected to make a recording.
CLICK FOR LIST OF 65 CREW MEMBERS
WHOSE VOICES ARE ACTUALLY HEARD ON THE RECORDING
© 2002-2018 The Neptune Association, Registered Charity No 1103413.